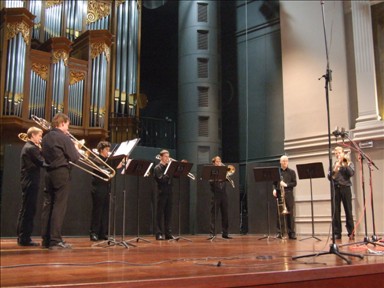 Français, English, Deutsch, Espa
ñol
F :) Le "Trombone Ensemble Gent" est un ensemble de trombones qui a été créé au sein du Conservatoire de Musique de Gand.
Le professeur, Luc De Vleeschhouwer, est trombone solo à l'Orchestre National de Belgique depuis 20 ans, et à été premier trombone de l'Orchestre Philharmonique des Flandres et la Orquesta Sinfonca de Sevilla.
L'ensemble est composé d'actuels et d'anciens élèves de la classe de trombone du Conservatoire de Gand (Hogeschool Gent) .
Le repertoire de l'ensemble contient des oeuvres originales et des arrangements splendides pour cette composition particulière.
E :) The " Trombone Ensemble Gent " was created inside the walls of the Music Conservatory of Gent.
The teacher, Luc De Vleeschhouwer, is since 20 years solo trombonist of the Belgian National Orchestra, and has been first trombone of the Flanders Philharmonic Orchestra and the Orquesta Sinfonica de Sevilla.
Together with former students and students of the trombone class of the Gent Conservatory (Hogeschool Gent) he started up this brandnew group.
The repertoire of the ensemble contains original pieces and splendid arrangements for this particular composition.
D :) Das "Trombone Ensemble Gent" ist ein Posaunenensemble daß seinen Ursprung fand im Musikconservatorium von Gent. Der Dozent, Luc De Vleeschhouwer, ist seit 20 Jahren Solo Posaunist beim National Orchester, Belgien. Er war erster Posaunist im Philharmonisch Orchester von Flanderen und dem Sinfonieorchester in Sevilla, Spanien.
Er startete das "Neue Ensemble" mit ehemaligen Musikstudenten und Studenten von der Posaunenklasse Conservatorium (Hogeschool) Gent.
Das repertoire von diesem Ensemble besteht aus originalen Musikwerken und prachtvollen Bearbeitungen für diese spezielle Besetzung.
E :) El "Trombone Ensemble Gent" es un conjunto de trombones que empezo sus actividades en el Conservatorio de Gantes.
El profesor, Luc De Vleeschhouwer, es trombon solista de la Orquesta Nacional de Belgica ya 20 anos, y fue primer trombon de la Orquesta Filharmonica de Flandes y de la Orquesta Sinfonica de Sevilla.
Junto con antiguo alumnos y alumnos de la clase de trombon del Conservatorio de Gantes (Hogeschool Gent) empezo este conjunto flamante.
El repertorio del grupo se compone de obras originales y de arreglos esplendidas para esta formacion particular.
---
Contact
pour toute information, for all information, für alle Information, para todo informe,
Telefoon : 003254503553 0032474686040
Postadres : Kloosterberg 17 9550 Steenhuize-Wijnhuize
Email : de.vleeschhouwer.luc@pandora.be